L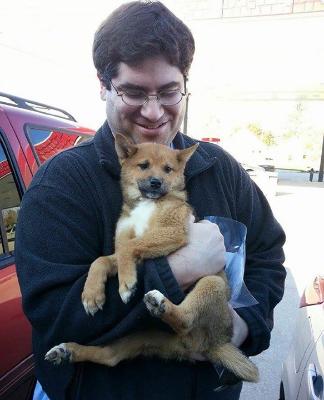 {{#each photos}} {{#unless isPrimary}}
L {{#if caption}} {{/if}}
{{/unless}} {{/each}}
Prev Slide
Next Slide
ignatius7610
38 year old man | Saint Louis, MO, United States | Seeking women 25-36 within 50 miles
ONLINE NOW

His details
Relationship:

Never Married

Have kids:

No

Wants kids:

Someday

Ethnicity:

White / Caucasian

Body type:

About average

Height:

6'1" (185cms)

Faith:

Jewish

Smoke:

No Way

Drink:

Social Drinker
Most people will mention how difficult it is...
In his own words
Most people will mention how difficult it is writing about themselves; I actually am inclined to agree. However, I know most people ask me or are intrigued by what I do for a living. There's a back story, obviously, which led to come to this endeavor. Five years ago, I was helping my younger cousin with his courses, in the hopes he'd be able to graduate college in the coming year. I, myself, was studying to become an actuary (a lot of math, basically), but I cared more to see my cousin finish school and start his life (we even were planning a trip to Chicago upon his graduation that coming December). When he passed from injuries sustained in a plane crash, I realized there were more important things than a $200,000 a year job, so I started a company helping students get through school, into and through college, learn new material (they might not have before), and, in some cases, get them to grade-level in virtually any subject. There's a lot more to the company, but, the position is the most rewarding, yet most difficult job I've ever held...and I love every minute of it. There is more to me, though, which I'll admit, I love listening to New Kids on the Block, Backstreet Boys, and 'N Sync. Yep, I turn up the radio, sing along, and *cough* know most of their names. I attempt to emulate the hipster attitude, just to mask my adoration of their tunes. If you think I'm kidding, quiz me. Oh, I also can't turn the channel when a chick-flick comes on. City of Angels? Check. The Notebook? You bet. Growing up with younger sisters, some things are bound to rub off. I even have a few quirks, if you will. I love using big words, especially incorrectly. Supercilious, onomatopoeia, plethora, infinitesimal; they all feel so amazing rolling off the tongue. I try to find the positive in everyone, despite any inherent dislike I may feel. I long to travel, taking a couple road trips a year, and having been to Europe a couple times. Lastly, I'm obsessed with education, turning my love into a career. When I started thinking about who I want to meet, I realized all that really matters to me is meeting someone who brings about the happiness I see others share, who wants to have fun, and who can curl up, talking, reading, watching a movie, just because (on a side note, I do have a couple of obsessions with Mel Brooks and Scooby Doo). I work with kids, and love it I guess that's why I want to and love teaching. Most of all, though, I want someone who doesn't care if I act like 'myself', who will indulge in my goofy behavior (maybe sneaking into a hotel at 8 a.m. because we heard Dave Matthews was staying there, only to see the Rolling Stones dining, instead...oh, so much fun) a person who knows when to be serious but also knows when to have fun.
His interests
Book club , Movies/Videos , Music and concerts , Playing cards , Playing sports , Watching sports
Sports & exercise
Baseball, Basketball, Bowling, Football, Golf, Weights / Machines
I exercise 3-4 times per week.
Sign
Don't display my sign
Pets
I have Cats, Dogs
I have a pup with an incredibly long name, but he goes by Iggy.
Favorite hot spots
My all time favorite place is actualy Paris. I love hanging out in Montmartre, watching the artists and relaxing in the bohemian lifestyle. I also like Denver, living there for awhile, before moving back to St. Louis.
Favorite things
I love music and movies, preferably movies that have a sinister side to them (although Mel Brooks slapstick is also at the top of my list) and music that actually means something to me.
For fun
I'm a very laid back person who really can find enjoyment in almost any activity. I used to have a Sunday ritual with friends, going to Strike n Spare at night (until it closed). I also enjoy trying random brews, attempting to play sports, etc.
Last read
The last book I read was probably either Les Miserables by Victor Hugo or Tartuffe. I'm really into a lot of the 18th and 19th century French literature, as well as William Blake's Marriage of Heaven and Hell.
Him
What he is looking for
Appearance
Height:
6'1" (185cms)
4'11" (149cms) to 6'2" (187cms)
Body type:
About average

No preference

Eyes:
Brown

No preference

Hair:
Dark brown

No preference

Lifestyle
Smoke:
No Way

No preference

Drink:
Social Drinker

No preference

Occupation:
Self-Employed / Entrepreneur

No preference

I started a company focused on advocating for students, as well as providing them the means to get through school and into college.

Income:
$50,001 to $75,000

No preference

Relationship:
Never Married

No preference

Have kids:
No
No
Wants kids:
Someday

No preference

Background
Ethnicity:
White / Caucasian
White / Caucasian
Faith:
Jewish
Agnostic, Atheist, Jewish, Spiritual but not religious, Other

I grew up Jewish, but I'm more spiritual; sometimes, my curiosity gets the best of me.

Religious Attitude:

I'll tell you later

No preference

I grew up Jewish, but I'm more spiritual; sometimes, my curiosity gets the best of me.

Languages:
English, French, Hebrew

No preference

Education:
Bachelors degree

No preference
Back To Top »

Your note has been sent to ignatius7610.

X
ignatius7610 has been notified that you want to learn about him.
Check back after a few days & see if he has added more details to his profile.
X
Finish by entering your Match.com sign in details.

Finish by entering your Match.com sign in details.
By clicking "Begin Now", I agree to receive transactional and promotional emails from Match.com. I understand that I am free to withdraw consent at any time.

X
In order to see his answer you must also answer.
X
In order to see his answers
you must also answer 3 questions.